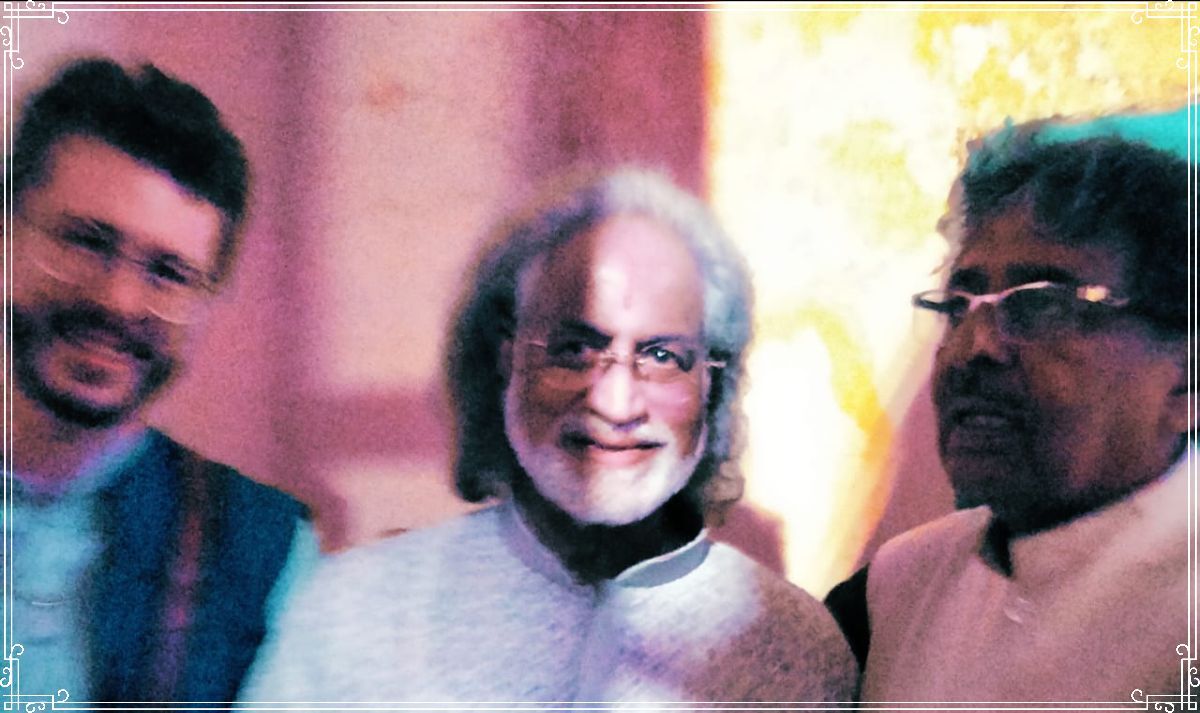 With Pt. Vishwa Mohan Bhatt (center) and Guruji Pt. Alok Lahiri (right) from the Alaap Festival in Madhyamgram 
"During a fateful study-abroad trip to Delhi in 2007, a chance encounter with a CD by Indian slide guitarist VM Bhatt led Joel..." 
Many of you may know that my bio on various promotional materials throughout the years has started with this line. Finally, in the end of 2022, I got to meet the musician that inspired my choice of instrument in pursuing Indian classical music. The picture is blurry because of the chaos going on backstage at the end of the maestro's performance: he is really quite the celebrity and was just mobbed with admirers trying to take pictures and ask him questions. Thanks to Guruji, I got a brief introduction before he was on his way. I am satisfied I had the opportunity to tell Vishwa Mohan Bhatt that I listened to his CD 'Classics for Pleasure' and started originally learning from his disciple Dr. Ranjan Kumar of Delhi. 
However, it's abundantly clear to me that I am on the right path learning from my current teacher and hence being associated with some of the finest artists of India. I also have no interest in following any other artist's slide guitar style: what I have developed over the years through my own hard work combined with the new techniques I am learning from Guruji and his student Tanmoy Mondal are where it's at for me. 
This all transpired at a totally packed classical music concert called 'Alaap Festival' put on by the Gharana organization in Madhyamgram in West Bengal, India a few weeks back in December. This concert was partially organized by my teacher Pt. Alok Lahiri and so I enjoyed access to the backstage and front row seats. One of the highlights was listening to tabla legend Pt. Swapan Chaudhuri's tabla solo as the culmination of the night. 
Also, it happened again..! A fan of my music identified me in the crowd and came up to introduce themselves. A fellow musician no less: Ms. Garika Bannerjee, an Indian slide guitarist studying with Pt. VM Bhatt.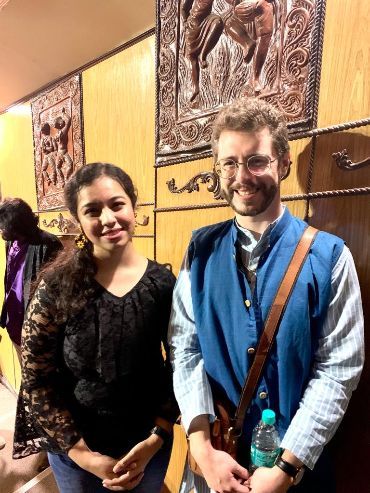 Garika Bannerjee, a slide guitarist studying with Pt. VM Bhatt and me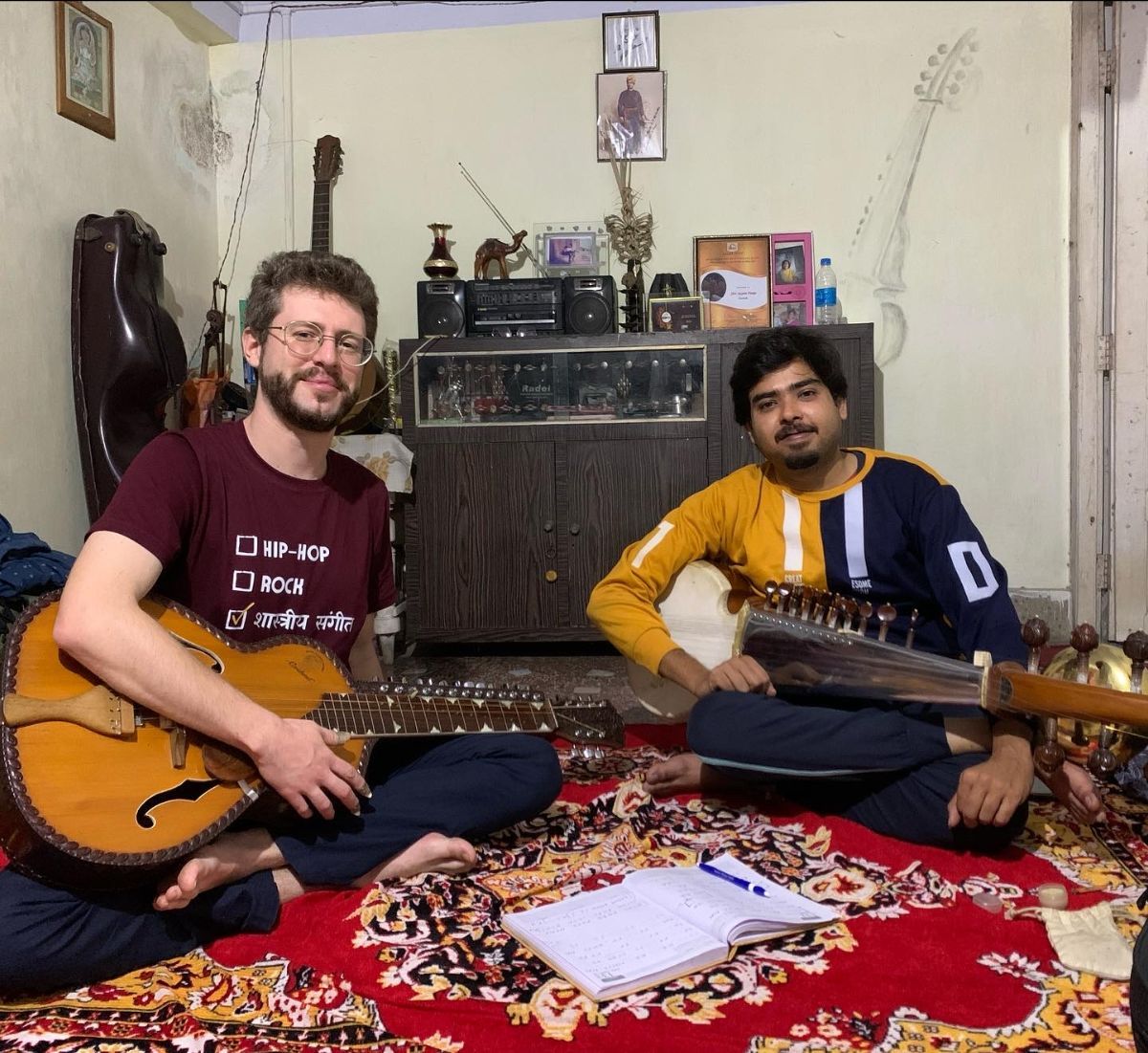 Me with a senior student of Guruji's, the excellent sarodist Sayam Panja in his home in Jujarsaha, West Bengal 
After the concert, I spent part of the week with Guruji's senior disciple Sayam Panja and enjoyed the generous hospitality and beautiful surrounds of his home in nearby Jujarsaha. I drank in this rich composition that we are to perform in the upcoming concert and saw lots of beautiful birds! All here for the winter season. 
I am clearly in the right place with the right people. 
Back to the city, I went with Guruji and fellow student Jean from France to attend an amazing concert from backstage in Kolkata: there I got to witness sitarist Mita Nag's brilliant performance in raag Patdeep and again I got to meet and listen to Pt Swapan Chaudhuri's solo performance. This tabla solo was totally inspiring, mind-bending; these tihais (patterns of rhythmic phrases repeated three times) that end just before saam (first beat) have me thinking more deeply about rhythms and rhythmic composition.
I met tabla legend Tanmoy Bose, just briefly but a caught a vibe of kindness and mastery. 
Finally, I am back with Howrah city, preparing for the concert on 14th Jan when I will perform with the senior students in the instrumental ensemble; not to be missed if you are in the area! This composition is quite unique in the classical repertoire and has my chops honed to a new level. It starts with a blistering taan (melodic run) that I previously thought was impossible to pull off without considerable time warming up. We had our final rehearsal today though and it's sounding quite excellent.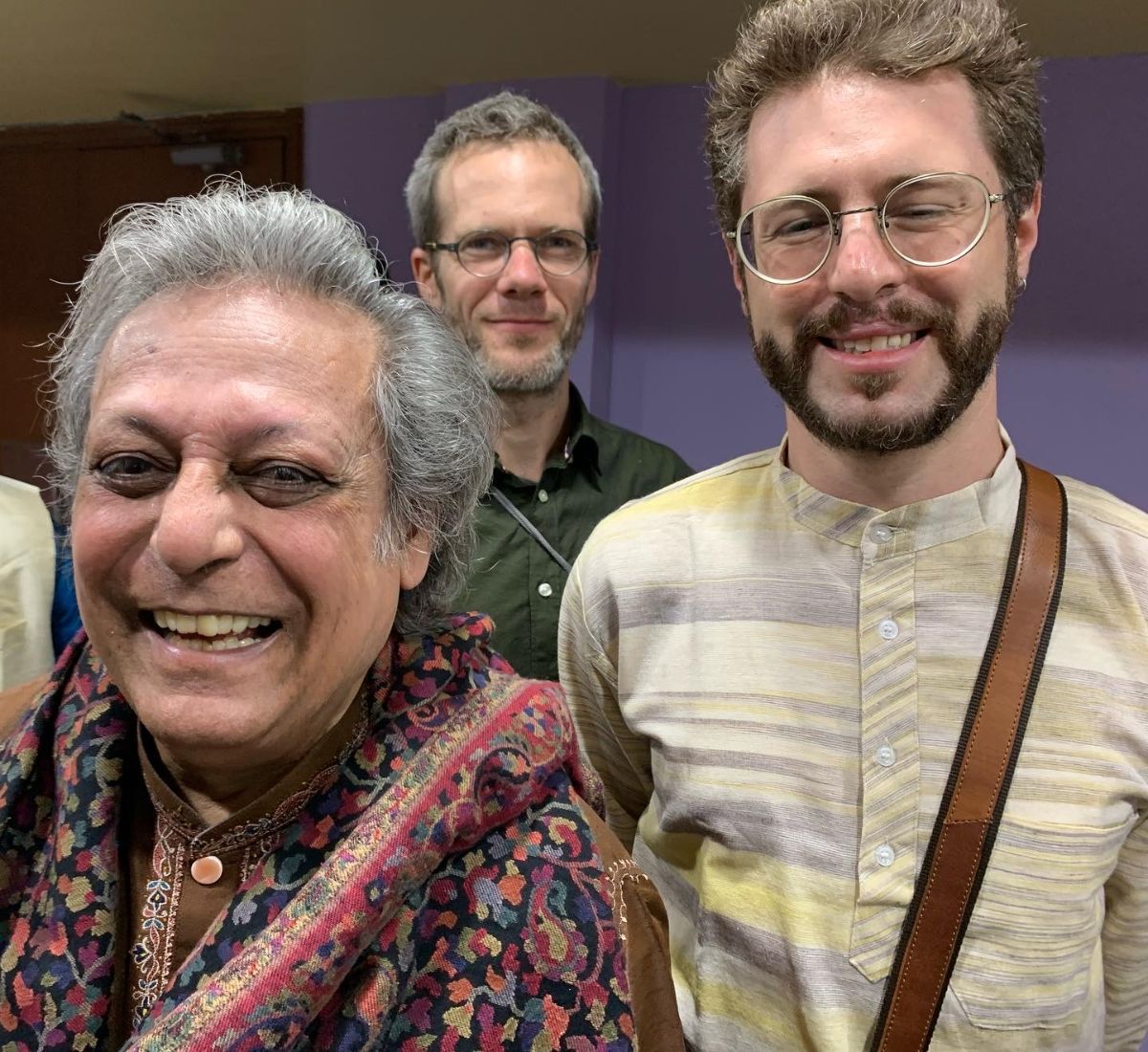 L to R: Pt. Swapan Chaudhuri, Jean Desaire (sarodist from France) and me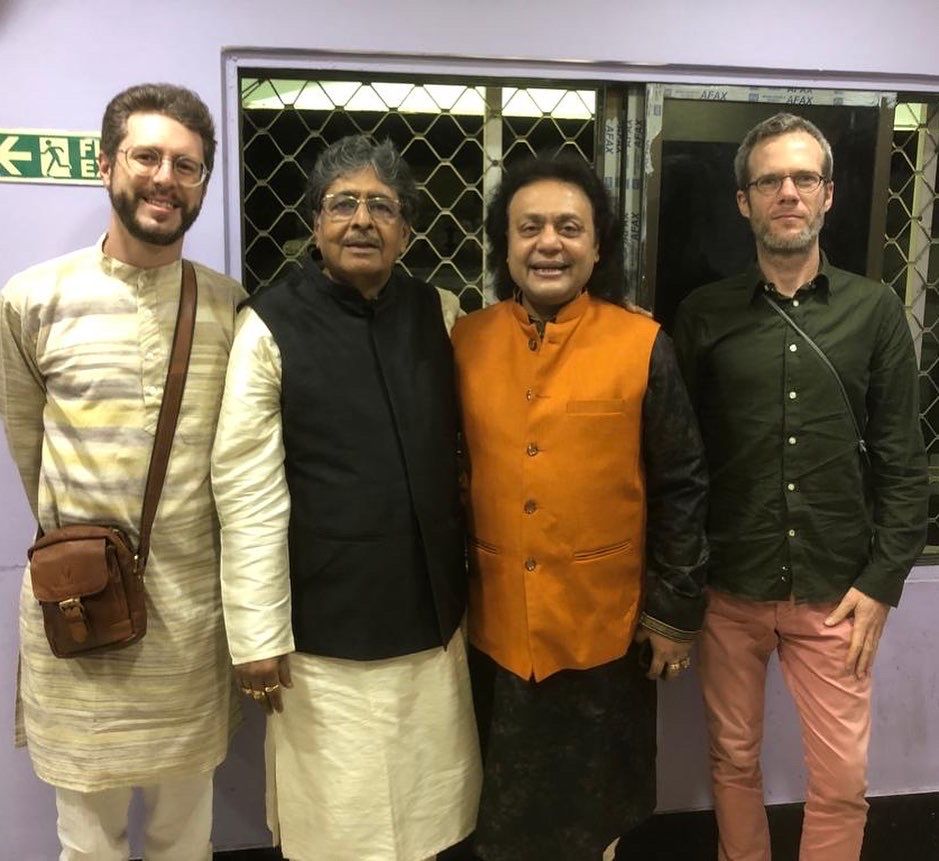 L to R: me, Pt. Alok Lahiri (Guruji), Tanmoy Bose and Jean Desaire 
-=-=-=-=-=-=-=-=-=-=-=-=-=-=-=-=--=-=-=-=-=-=-=--=-=-=-=--=-=-=-=-=-=-=-=-=-- 
In other news, I've added two more dates to my India tour! Incredible that opportunities keep coming my way. Check out my full tour below: 
14 January - Ramgopal Mancha - Annual Sur Sangam Classical Music Concert - Howrah, India 
21 January - Social Gatherings House Concerts - Surat, India 
29 January - the Indian Music Experience Museum - Taalmagic 1st Annual Program, presenting Joel Veena with Anand HS on tabla - Bangalore, India 
12 February - India Habitat Centre (theatre) - Joel Veena & Amit Singhal present 'Milap' with Gaurav Mahto on tabla - Delhi India 
25 February - Harkat Studios - Ragas for Peace & Happiness, with Rakshanand Panchal on tabla - Mumbai, India 
Thank you for your continued support, 
Wishing you and yours a happy New Year, 
Joel 'Veena' Eisenkramer 
P.S. Don't believe the hype: Indian classical music is not a "dying art form" - see in these pictures below: packed concert halls and a room full of young students (they can really play, especially the girl in the pink).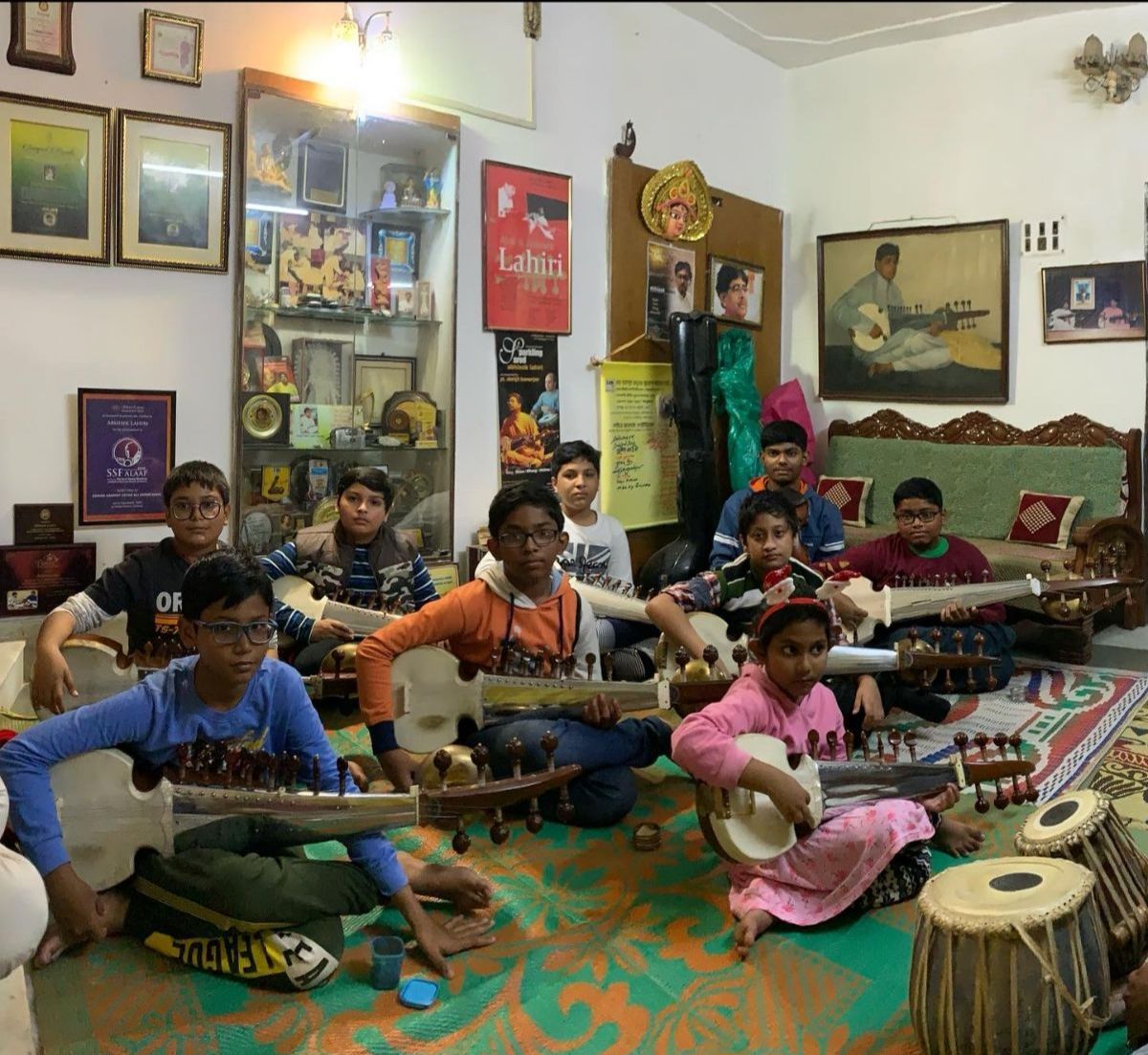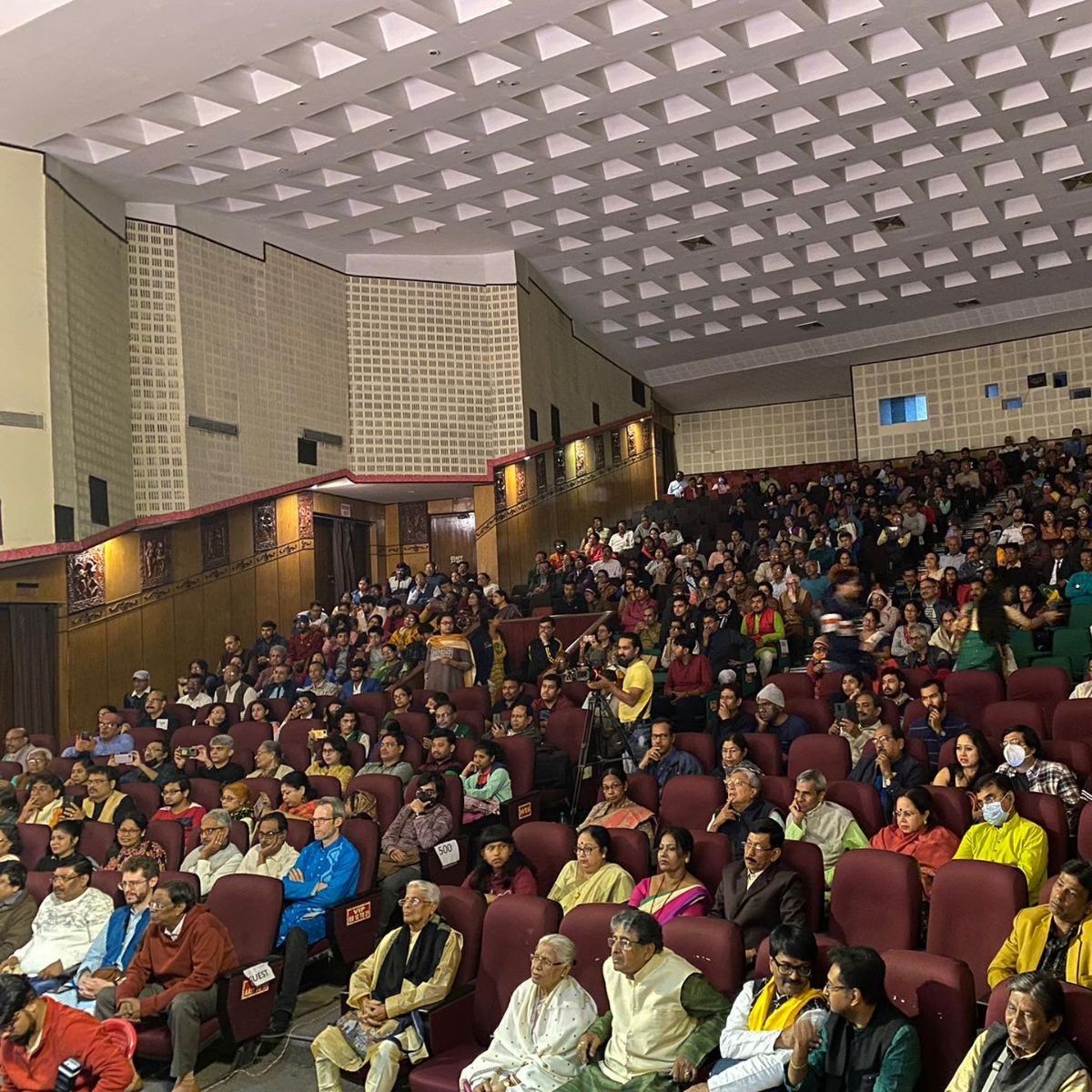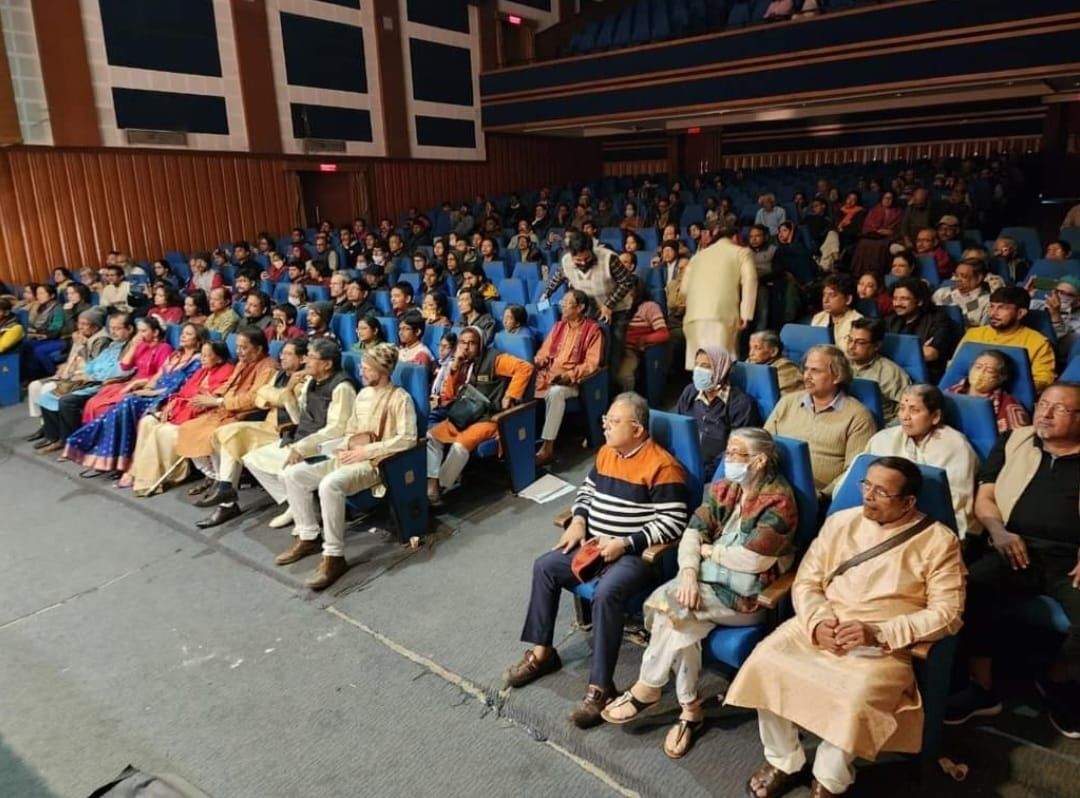 Did you know? 
I just added another full-length concert recording to my patronage hub: my performance at Omega Institute for Holistic Studies with Mir Naqibul Islam on tabla. 
For less than the price of a sandwich every month ($5/month) you become a sustaining force in the creation of my music and get access to exclusive content like these full-length concerts plus my entire discography via hi-fidelity download and streaming on the Bandcamp app. 
Thanks! 
 
Brattleboro, Vermont 05302 
Add us to your address book 
Want to change how you receive these emails? 
You can update your preferences or unsubscribe from this list.