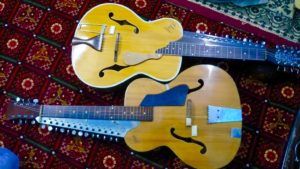 Two Indian slide guitars. Bottom: modified arch top Gibtone guitar, custom designed by Dr. Ranjan Kumar and built by Ashok Musicials. Top: Mohan Veena style Indian slide guitar, built by Conchord and designed by Bhaba Sindhu Biswas.
The Indian Slide Guitar is a relatively new instrument created by modifying the Hawaiian steel guitar and arch top Jazz guitar. It first came about when a Hawaiian musician by the name of Tau Moe took up a residency at the Taj hotel in Calcutta during the 1940s. Moe and wife Rose were tremendous musicians and dancers who toured the world promoting Hawaiian music. Tau Moe was a master of the lapsteel and Hawaiian steel guitar: an acoustic guitar played flat on on one's lap with a steel bar as a slide and fingerpicks. The strings are raised up off of the fret board so as to allow the player to slide freely. Moe taught lessons, built and sold Hawaiian guitars inspired many musicians and can be credited with introducing Hawaiian guitar to India. During his time in Calcutta, Moe performed for such personalities as Mahatma Gandhi and Rabindranath Tagore. 
Hawaiian guitar and lapsteel caught on around India and found its way into the scores of many Bollywood movies. By the 1960s, it was a relatively popular instrument throughout India and it was around this time that the instrument was first modified so as to be able to play classical Indian music. Pandit Brij Bhushan Kabra was the first artist to be considered a great classical musician of the guitar in India. With the guidance of sarod maestro Ustad Ali Akbar Khan, Kabra added 'chikari' - drone strings plucked with the thumb on the side of the guitar closest to the player - to the instrument. 
Kabra playing his Indian slide guitar, a modified Gibson Super 400 with chikari and the nut raised to enable sliding over the strings with a steel bar. You can see Panditji playing seated on the stage, in the manner of traditional Indian musicians; his style in presentation, posture and picking set the precedent for virtually all Indian guitarists after him. 
INTERVIEW with Kabra: 
Pt. Brij Bhushan Kabra brought the instrument into the limelight through the extremely successful 'Call of the Valley' album, created with Pt. Hariprasad Chaurasia and Pt. Shiv Kumar Sharma. The album was the first of its kind: a concept piece, where Indian classical ragas were used to depict a day in the life of a small mountain village. To date, it is one of the highest-selling world music releases of all time and was the musical gateway through which famous western pop musicians like the Beatles, David Crosby and Bob Dylan first heard Indian music. 
It's important to note that at around this same time, Pt. Barun Kumar Pal, was making similar changes to the instrument. Born in 1946, Pal's biography reads that he started playing Hawaiian guitar as a child and performed for many notable personalities, including Jawaharal Nehru, India's first prime minister.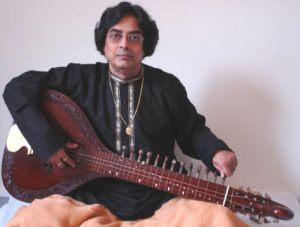 Pt. Barun Kumar Pal with his Hansa Veena
Pt. Barun Kumar Pal, a student of sitar maestro Pt. Ravi Shankar, added twelve sympathetic resonating strings, called 'tarup,' to the Hawaiian guitar in addition to the chikari. Using a similar style bone bridge as the sitar and sarod, these strings would be tuned to the raga or scale being performed and then ring out from the resonant quality of the guitar body when the corresponding note is plucked on the main strings. Later, Pal went on to design a new body with a slightly different string configuration for the instrument and called it Hansa Veena. 'Hansa' is the word for swan in Sanskrit, called as such because of the swan carved into the head of the instrument. The word 'veena' simply means 'stringed instrument.' He holds the distinction of being the first artist to receive an 'A' grade from All India Radio for classical and light music on guitar in 1972 and 73. 
Pt. Barun Kumar Pal playing on an Indian slide guitar (disregard the picture) on an All India Radio program, likely from the 70s. 
Pt. Barun Kumar Pal performing on his Hansa Veena from a recent program: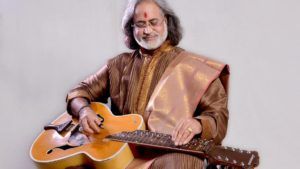 Pt. Vishwa Mohan Bhatt with his Mohan Veena
Pt. Vishwa Mohan Bhatt, also a student of Pt. Ravi Shankar, created a version of the Indian slide guitar called Mohan Veena by modifying a German arch top Jazz guitar gifted to him. He added sympathetic strings and chikari to the already very resonant body of the instrument. Bhatt is the most popular Indian slide guitar artist, having won the 1992 World Music Grammy with Ry Cooder for their collaborative album, Meeting by the River. Bhatt's contribution to the popularity of the instrument is unparalled. The collaboration with Ry Cooder was the first of many that, in the tradition of 'Call of the Valley,' brought the Indian slide guitar onto the world stage and included fusions with many famous musicians like Bela Flek, Taj Mahal and Jerry Douglas. In addition to this, Bhatt is a legendary performer in the classical mileu; his recordings of Raga Bihag having become part of the Indian slide guitar 'canon,' if you will. To this day, the artist performs to sold-out crowds internationally and at home in India. These days, he has modified the instrument's sound further by using electric pickups and an octave pedal-type effect. 
Pt. Vishwa Mohan Bhatt, during his rise to fame in 1992 with the original modified German Archtop guitar: 
A contemporary concert of the maestro, using new electronic effects and pickups: 
(Note: Two instruments actually bear the name 'Mohan Veena' :  the first being a modified wood top sarod invented by Pt. Radhika Mohan Maitra and the second being Pt. VM Bhatt's guitar.)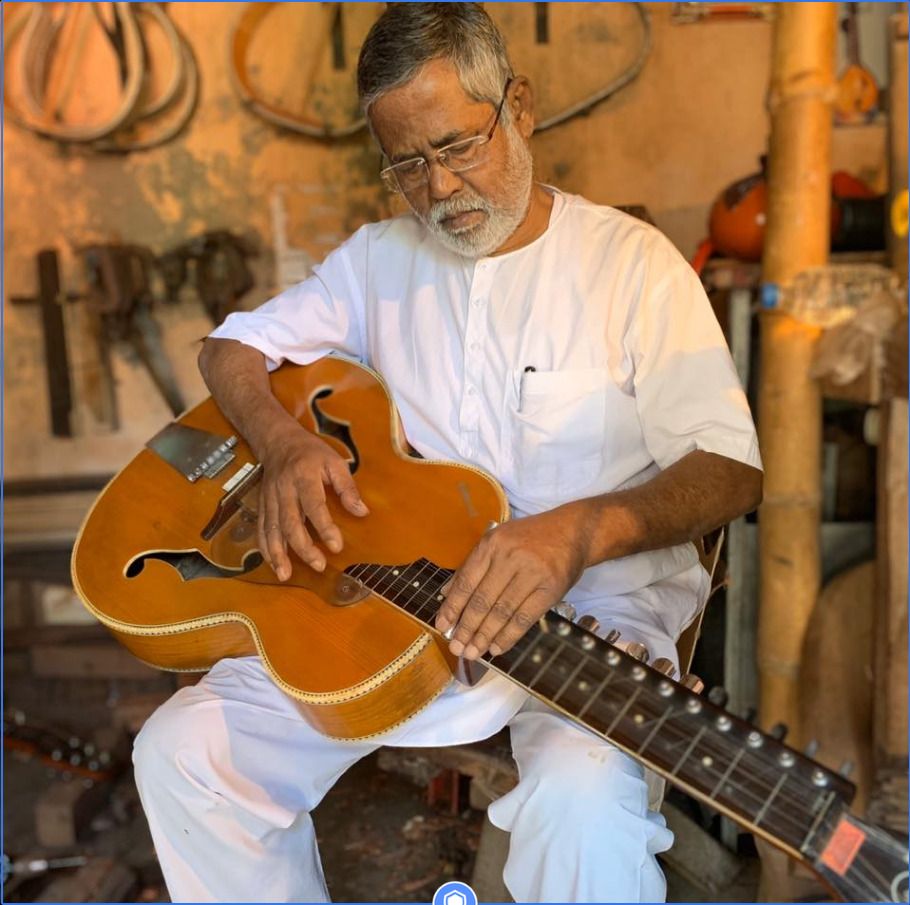 Bhaba Sindhu Biswas in his shop in Kolkata, India
Since at least the last 20 years, all the significant manifestations of the Indian slide guitar have been made by one single craftsman and his workshop: Bhaba Sindhu Biswas of Conchord Guitars in Kolkata, India. Modern day Mohan Veena, Hansa Veena, Satvik Veena, Chaturangi, all the major iterations of this instrument were designed carefully and through immense trial-and-error by Bhaba Sindhu Biswas. I had the great fortune of having my instrument made by him and meeting him at his shop back in 2016. He explained to me that his designs have come from working closely with artists like Barun Kumar Pal and Vishwa Mohan Bhatt and making changes based on their feedback. He also sources Indian mahogany (for the bodies) and pine (for the tops) especially for the instruments. Sadly, he passed away in the beginning of 2020. The shop is continued by his daughter, Ria Biswas, and some of his most senior craftsmen. It is important to note that many artists claim to have 'invented' their unique spin on this storied instrument, but the vast majority of actual crafting and creation of the actual physical instrument was done by Bhaba Sindhu Biswas. Far too often in India and other places in the world, the credit for artistic invention is taken by the person who uses the invention, rather than the actual creator.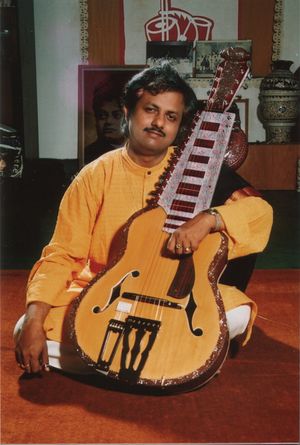 Pt. Debashish Bhattacharya 
The current generation of Indian slide guitarists is led by Pt. Debashish Bhattacharya of Kolkata, a student of Pt. Brij Bhushan Kabra, Bhattacharya has designed three new Indian slide guitars with the help of Bhaba Sindhu Biswas. Each has a different musical purpose, from playing classical Indian music to more fusion. The technique for playing is more or less the same as the previous artists mentioned, however a major difference being that the chikari strings of Bhattacharya's guitars are located on the far side of guitar from where the performer is sitting. Thus the player has the ability to use their pinky or ring finger to strike the chikari rather than the thumb. Bhattacharya is immensely popular and enjoys many international tours and collaborations with a number of artists. He recently designed a slide banjo of sorts, a slide guitar with a hide top, called 'pushpa veena.' 
Pt. Debashish Bhattacharya playing his "chaturangi" Indian slide guitar: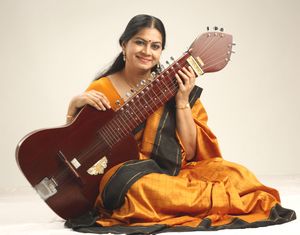 Dr. Kamala Shankar 
Dr. Kamala Shankar is one of the popular guitarists of our time and first woman artist on the instrument to gain national and international acclaim. She plays an instrument dubbed 'Shankar Guitar' with many of the same techniques as the other Indian slide guitars with a focus on 'gayaki ang' or 'singing style'. Her technique also utilizes some of the ornaments of the vichitra veena, as she studied under Dr. Gopal Shankar Mishra among others. One major difference is in the shape of the body: her instrument utilizes a more rectangular shape that maximizes the resonant quality of the body.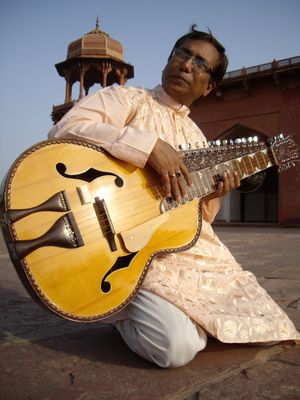 Debasis Chakroborty 
Debasis Chakroborty is a student of Pt. Brij Bhushan Kabra and is the one player who perhaps most faithfully continues to play in his style. He also plays a Conchord instrument and released a wonderful album of slide guitar music in 2009 titles 'Soul Mate' that I highly recommend. We are most grateful to Debasis Chakroborty for uploading many rare recordings of Brij Bhushan Kabra to his YouTube channel. These recordings continue to be of great historic and artistic value to all future generations of guitarists.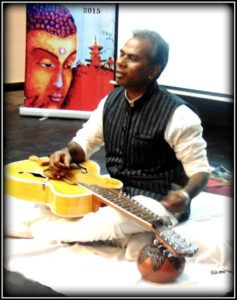 Dr. Ranjan Kumar
While this is still not a very widespread or well-known instrument even in India, there are more and more young artists becoming inspired to play Indian slide guitar. My first teacher (from 2007 to 2017 approximately), Dr. Ranjan Kumar, is one of the first to discuss the history of the guitar in India in his book 'Indian Music on Guitar.' (Listen to his recordings here).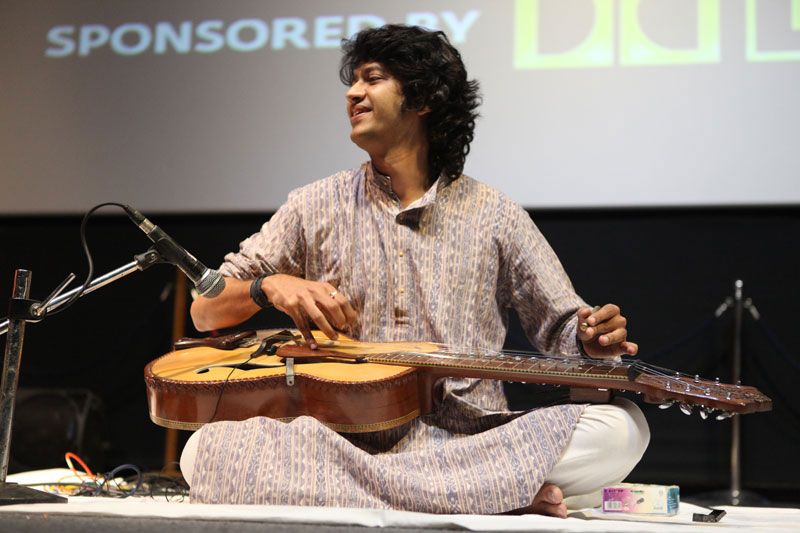 Manish Pingle 
One of the finest modern day exponents of the Indian slide guitar is Manish Pingle. Pingle has played the slide guitar since childhood, first learning from master guitarist Vishnu Ramchandra Waliwadekar and later sitarist Ustad Shahid Parvez. He has developed his own style of stringing the instrument and also picking, utilizing his deep background in multiple instrumental styles to bring the slide guitar to new heights. He is a celebrated international artist with many tours in Europe and Asia. Also, a friend of mine and a genuinely kind artist who has helped me personally in developing my style as well. 
Tanmoy Mondal 
Another up and coming slide guitarist, Tanmoy Mondal hails from Howrah, India and with the guidance of sarod maestro Pt. Alok Lahiri, has developed new picking patterns and a unique style of slide guitar playing. I'm very fortunate to have learned from him and alongside him from Pt. Alok Lahiri. Mondal's playing is the latest iteration of the Maihar Gharana style of sarod playing, translated to guitar. 
Sources: 
Bhattacharya, Debashish. 'Hawaii to Calcutta: A Tribute to Tau Moe.' CD liner notes. Online: https://worldmusic.net/products/hawaii-to-calcutta-a-tribute-to-tau-moe 
Kabra, Pt. Brij Bhushan. 'Interview on ITV.' Online: https://youtu.be/L0zzJbCbQ-E 
Kumar, Dr. Ranjan. Indian Music on Guitar. Kanishka Publishers Distributors. (Hindi) 
Pingle, Manish. Personal website - Online: https://manishpingle.com/ 
Raja, Deepak. 'Brij Bhushan Kabra (1937 - 2018) and the Indian classical guitar.' Blog. Online: http://swaratala.blogspot.com/2018/04/pt-brijbhushan-kabra-and-indian.html 
Wikipedia: Tau Moe - Online: https://en.wikipedia.org/wiki/Tau_Moe