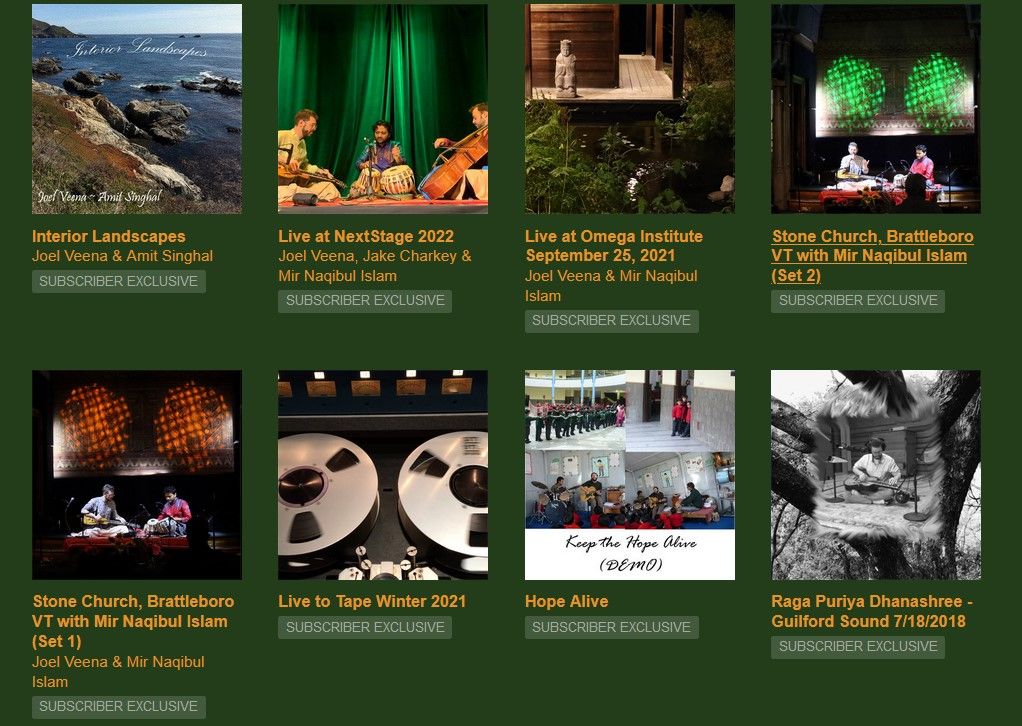 I'm thrilled to share with you that there are now 8 (EIGHT) exclusive releases available on my Bandcamp patronage hub. 
For those you don't know.... 
  
For $50/year you get all of these exclusive releases, plus my entire discography of already released music and everything I make in the future. 
All the music is yours to keep forever as a high quality download AND it's streamable online in your browser and via the Bandcamp app for iOS and android. 
On top of that, you get the satisfaction of knowing that you are supporting my art in a meaningful way. 
WHAT'S NEW is that my concert with Jake Charkey and Mir Naqibul Islam is now available via the patronage hub. The whole concert! The sound quality is really excellent and I'm really happy to be able to share this landmark performance with the world. It was a good-sized audience in Putney, Vermont, but I know there are many of you far and wide who would have loved to be there. Now you can listen to it to your heart's content. 
With ample patronage, I will be able to focus more time of practicing, composing and performing. It's through patronage of the arts that most of the great artists in history were able to create their finest works; I'd like a shot at that too. 
Check it out below, I really appreciate your support! 
Wishing you and yours the very best, 
Joel 'Veena' Eisenkramer