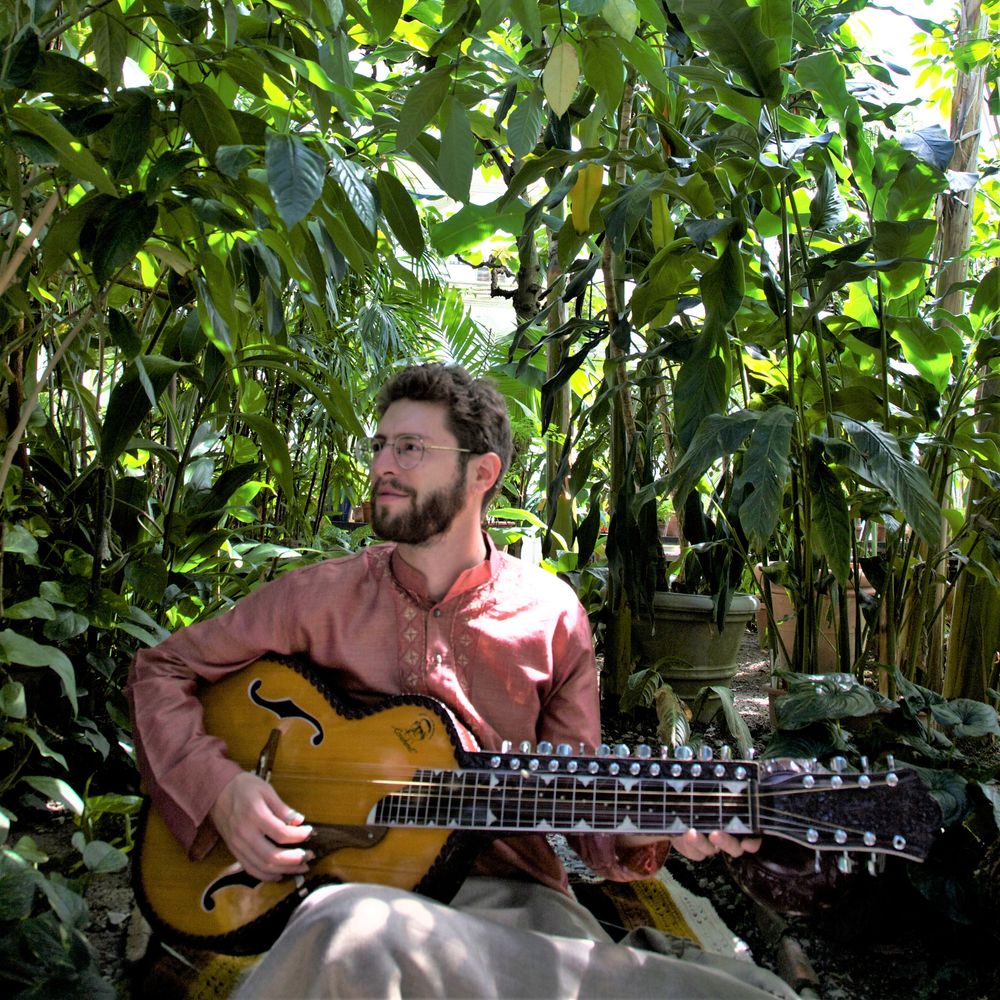 About Joel Veena
During a fateful study abroad trip to Delhi in 2007, Joel picked up a CD by renowned Indian slide guitarist Pt. Vishwa Mohan Bhatt. Deeply moved by the beauty of the instrument and the ragas, Joel felt compelled to search out and learn the Indian slide guitar within moments of listening. After spending an entire July afternoon searching the campus of Delhi University for the music faculty, he finally met renowned tabla maestro Pt. Subhash Nirwan who offered to help Joel in his journey and subsequently introduced him to the Indian slide guitarist Dr. Ranjan Kumar. Dr. Ranjan agreed to teach Joel the techniques of the instrument as well as the form and substance of Indian classical music.
Since that time, Joel has been traveling to India to receive teachings and has toured the country and the world giving concerts. Some of his prestigious performances have included the 2019 Kumbh Mela at Prayagraj, Azad Bhawan ICCR Delhi, NGMA Bangalore, the Ekal Ka Rann festival in Gujarat, and the Swar Deep Yagya in Moradabad. In the Netherlands, Joel has performed at the Willim Twee Concert Hall in Den Boesch and at Codarts Rotterdam World Music Conservatory. He has also toured extensively in his native USA. These concerts included lecture demonstrations at the California Institute for Integral Studies and California College of the Arts.
Joel has developed an original show that combines storytelling and music that takes audiences through his singular journey in Indian classical music. Titled 'Taleem Yatra: The Story and Music of Joel Veena,' the show's anecdotes and music detail Joel's personal experience of learning and performing the Indian slide guitar. The unique combination of personal narrative and musical performance has made the show engaging for audiences of veteran musicians as well as casual listeners and those interested in spoken-word performance.  
2017 has brought the release of Joel's second album, 'Unexpected Blessings,' which has been recorded in India and the US and features a host of different musicians and musical styles from both countries. The album presents the Indian slide guitar in a number of new as well as traditional settings including a duet with the Hang drum ('Ranjan'), a fusion of North and South Indian music with Carnatic flute and Middle Eastern frame drum ('Bhagyada Lakshmi Baramma') and even an uptempo dance track where the slide guitar is used as a carrier for a vocoder ('Shell'). The album also features a purely classical rendition of Raga Yaman accompanied by tabla virtuoso Suraj Nirwan ('Raga Yaman'). The album is currently in radio circulation around the world after being featured on Radio New Zealand's Worlds of Music Show. 
Now Joel has added the Netherlands to his yearly touring schedule where he performs with Dutch Bansuri artist Kees van Boxtel as the group Sacred Groves. 
As of the beginning of 2018, Joel has begun receiving advanced training under the Guru-Shishya Parampara from eminent Sarod maestro Pt. Alok Lahiri in the maestros unique style of playing (exemplified by his son Abhisek Lahiri). Under the master musician's guidance, Joel has received the encouragement and praise of Indian classical artist community in India, performing for the Indian Council for Cultural Relations in Delhi and featured by Indian Talent Magazine.  
In 2018, Joel released his third studio album 'Chintan' – a jugalbandi (or duet, literally translated as 'entwined twins') between Indian slide guitar and the Indian bamboo flute, Bansuri. Joel Veena and Amit Singhal met in 2016 by chance at a sarod concert in Delhi. After several missed connections, they finally sat down to play together in the winter of 2018 in Amit's home in Chandni Chowk, Old Delhi. They quickly found a brilliant chemistry while playing together, held three days of practice sessions and then headed to Satish Babbar's Studio to record this album before Joel returned to Mumbai. What has emerged is an exciting, fresh rendition of Raga Bhimpalasi by two young artists exploring their collaborative potential. Also, a recording of Joel Veena's original song, 'Jai Love', often performed at his concerts and now for the first time available on recording.
2019 began with one of Joel's most memorable performances: a showcase with SAM Workshops at the Kumbh Mela in Prayagaraj, India. Thanks to the generous invitation of Divya Jyoti Jangriti Sansthan (DJJS), Joel delivered a much celebrated performance to the 20,000+ people in the audience on that day. 
This was followed by the release of Joel's fourth studio album 'Sacred Groves' – a collaboration with Bansuri artist Kees van Boxtel, recorded at Bless U Studios in Haarlem, Netherlands and it also features Joel and Kees' performance in Howrah, India as part of the 24th annual Sur Sangam Concert. The two musicians took the album on tour in Europe, joined by Shabbir Hussain, and performed concerts in Netherlands, Belgium, Germany and Austria. The tour resulted in a live album, 'Sacred Groves: Live in Europe' – this was very well received and Kees' song, 'Dance of the Swans feat. Shabbir Hussain' was featured on Radio New Zealand's World's of Music.
 Later that same year, the album 'Milap' was released, a collaboration between Suraj Nirwan, Amit Singhal and Joel. The three friends recorded at NRAI Studios in Delhi, presenting a full length rendition of the evening raga Jog and another lively version of Joel's original 'Jai Love'.