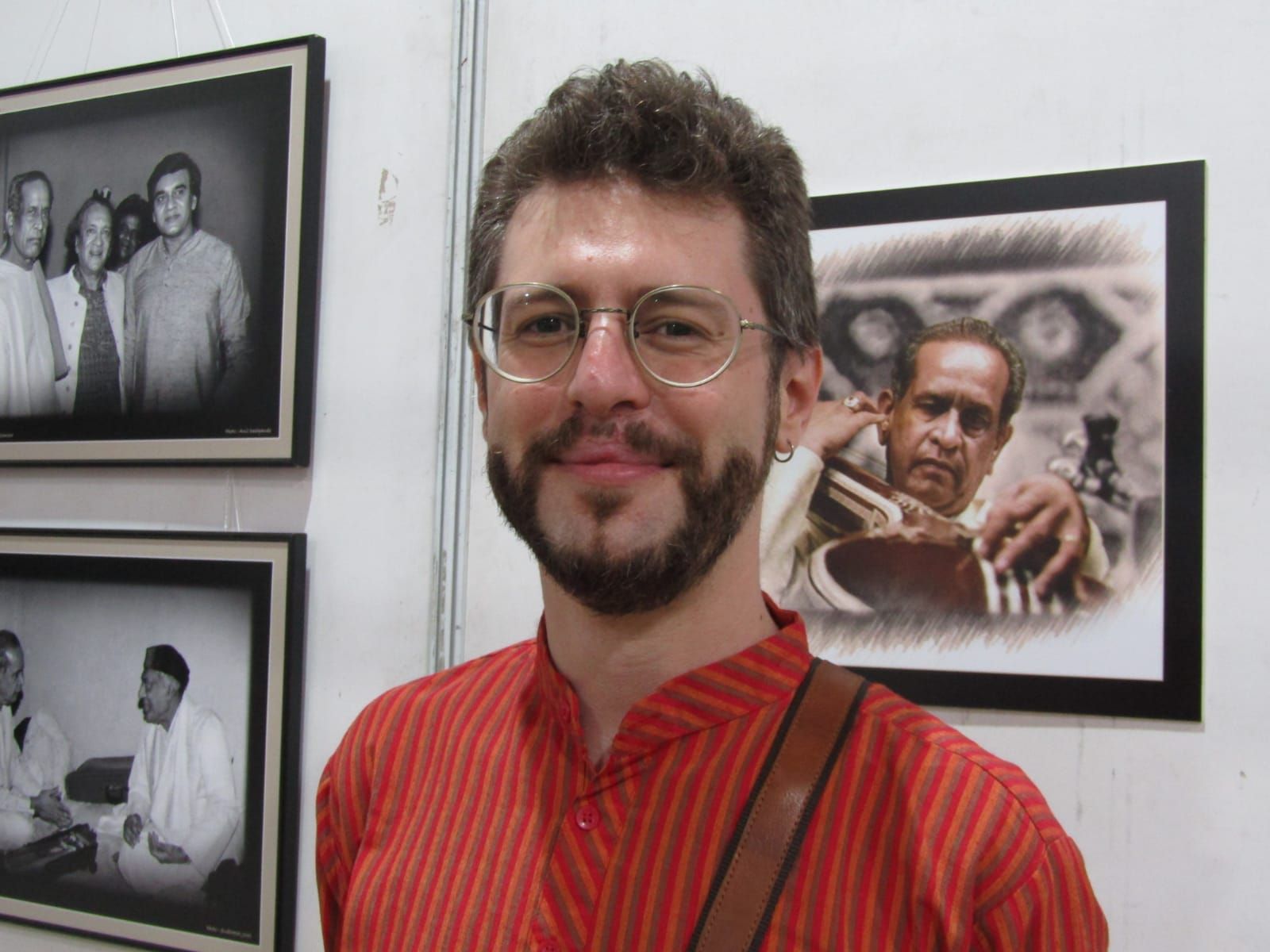 At the 68th Sawai Gandharva music festival in Pune, India - pic by Mr. Sanjay Kelkar, who has been taking portraits at the festival for the last 30 years. 
Season's greetings from India! 
I reached Mumbai in the beginning of the month and have been spending my days meeting family and friends, traveling, meeting concert organizers and fellow musicians, and attending some of the most incredible performances of my life. 
I am feeling a deep sense of affirmation for my path in this music as, at each event I have attended so far, something incredible keeps happening: fans of my music have identified me in the crowd and taken time out to personally greet me and appreciate my concerts and recordings. Some have been following my music for some time on the internet, like young Sarvesh Raghoji and his lovely family, who were always in attendance for my online concert series during the lockdowns of 2020, Ragas for Peace & Happiness: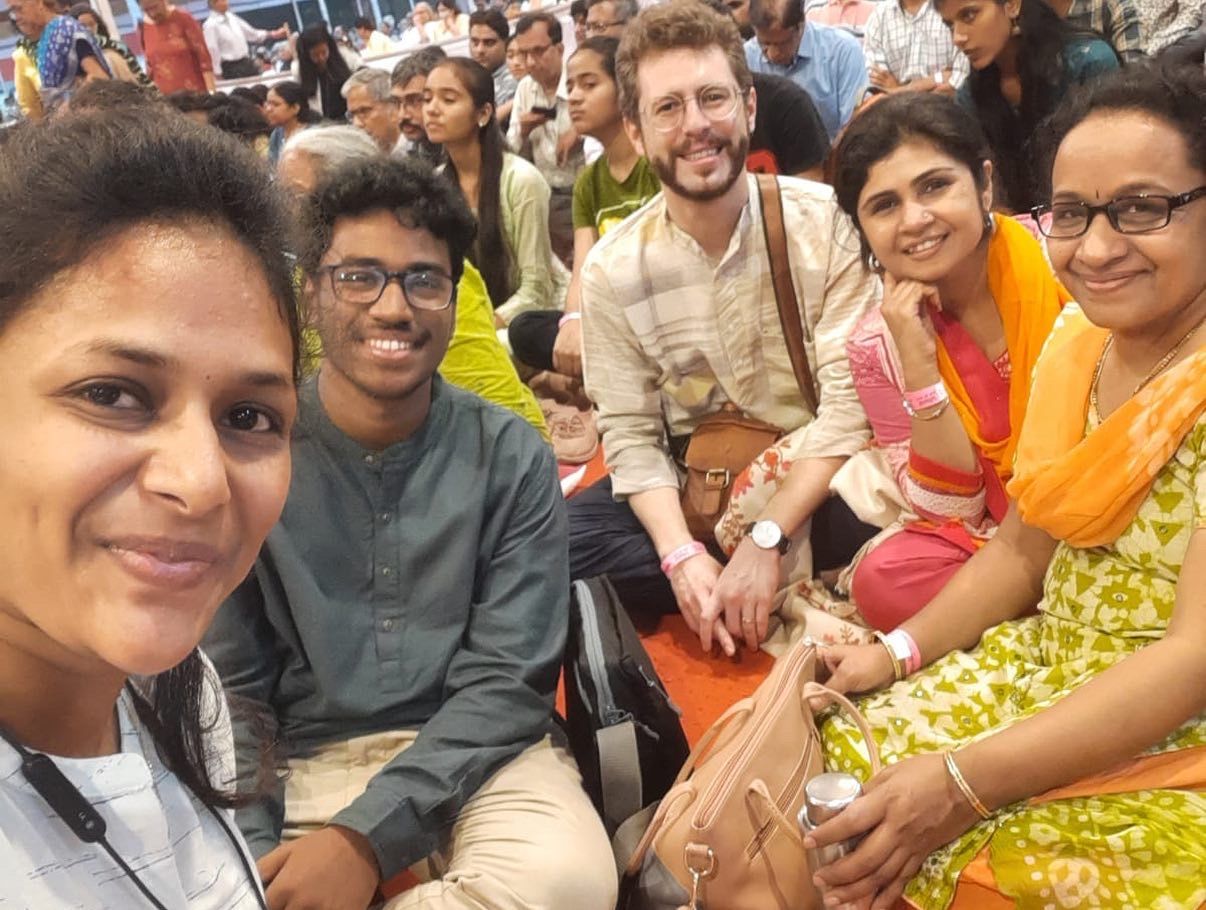 From L to R: Namita, Sarvesh Raghoji, me, Vidhi and Mrs Raghoji at Sawai Gandharva festival 2022 
Here are some of my reflections on attending the festival, written December 18, 2022: 
Vidhi and I attended the first two days of Sawai Gandharva festival in Pune this week and it was an incredible and affirming experience. 
It was my first time attending this historic music festival, started 60+ years ago by legendary singer Bharat Ratna Pt Bhimsen Joshi in honor of his guru Sawai Gandharva and guru's guru Ustad Abdul Karim Khan. 
What was most amazing was that, despite never attending this festival in my life, I arrived to be greeted by my friends and peers! Sarvesh Raghoji and family, who listened to nearly all my Ragas for Peace and Happiness live streams in 2020, greeted me immediately and showed us the good places to sit, we caught up like old friends. I also met Ajit from Kansen Club on Twitter (the excellent handle for all classical concert listings across India), last we met was in Bangalore at my concert with Gordon Korstange at the National Gallery of Modern Art (NGMA) in 2019. I met fellow slide guitarist Manas Goswami. Also Vidhi and I met Chaitanya Nadkarny, who works on the wonderful Ragya app, to plan future concerts and discuss strategies for growing the audience of Indian classical music. 
Living a lot of the time in Vermont, where most people only have a vague idea about my work in this music, it was moving and a huge boost to be welcomed by this lovely musical family; music-lovers, musicians, organizers. We sat together on the ground in the huge open air of Maharashtriya Mandal, munched on bread pakora and drank cha. 
Musically the highlight was far and away the brilliant soul stirring performance of master violinists N Rajam, Sangeeta Shankar, Ragini & Nandini Shankar - the raag Darbari they played was a beautiful dream that we never wanted to end. We heard one violin, in one voice, played by four masterful personalities. I think my sur (tuning) has improved after just listening to this performance 🤯. The support the musicians showed each other on stage set a new standard for jugalbandi (collaboration) in my mind. The tabla accompaniment by Mukesh Jadhav was perfect: a calm and powerful storm that held the lofty strings in the heavens. 
I hope to make this an annual tradition as I had so much fun and got great energy and inspiration. 
-=-=-=-=-=-=-=-=-=-=-=-=-=-=-=-=--=-=-=-=-=-=-=--=-=-=-=--=-=-=-=-=-=-=-=-=-- 
In the past week, I have attended more concerts and traveled to Howrah where I am receiving taleem (training) from Guruji, Pt. Alok Lahiri, and preparing for the the annual Sur Sangam Academy of Music concert on January 14th, 2023. 
Actually, the days have been so packed that it's really too much for one email. So tune in next time to learn about how I met my original inspiration, Pt. Vishwa Mohan Bhatt, and received the blessings of tabla legend Pt. Swapan Chaudhuri. 
In the meantime, if you are in Delhi or Bengaluru please mark your calendars and tell your loved ones about my upcoming concerts: 
29 January - the Indian Music Experience Museum - Taalmagic 1st Annual Program, presenting Joel Veena with Anand HS on tabla 
12 February - India Habitat Centre (theatre) - Joel Veena & Amit Singhal present 'Milap' with Gaurav Mahto on tabla 
Wishing you a merry Christmas and happy holidays from Howrah!  From L to R: Guruji, Jean from France, Somdutta Chatterjee, Guruma, me and Abhisek Lahiri.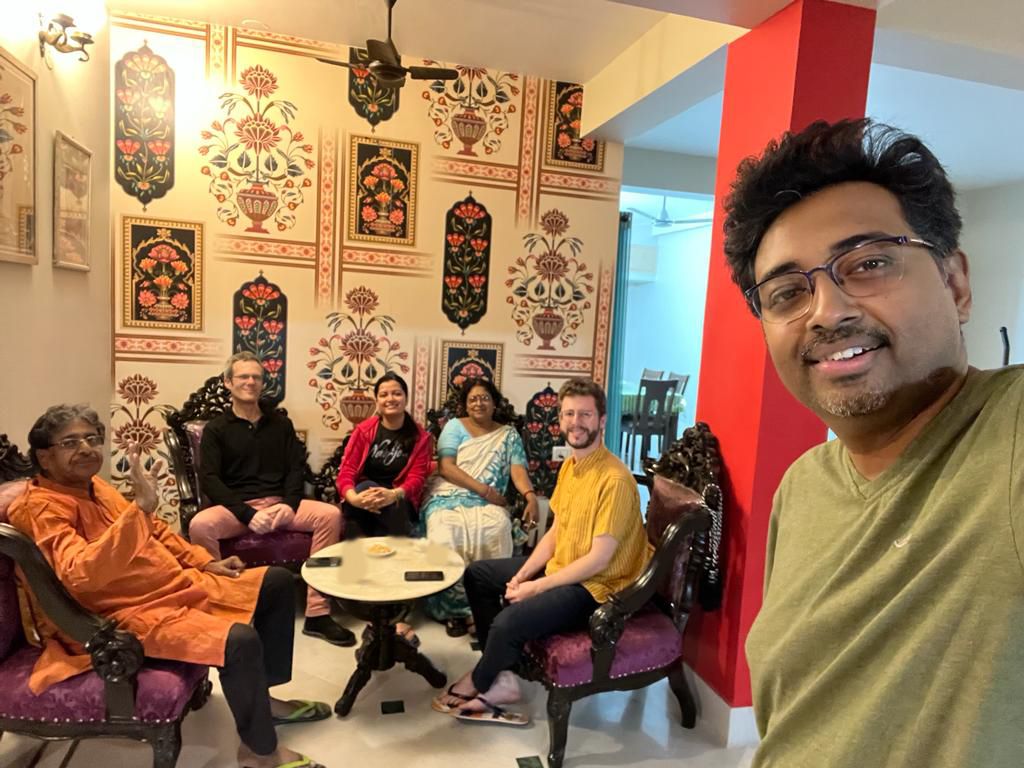 Thank you for your continued support, 
Wishing you and yours a joyous solstice season, 
Joel 'Veena' Eisenkramer 
There are currently 9 exclusive offerings on my patronage hub including several full length concerts, not available anywhere else. Subscribers also receive access to my ENTIRE DISCOGRAPHY via hi-fidelity download and streaming via the Bandcamp app.